Home Theatre Amps & Receivers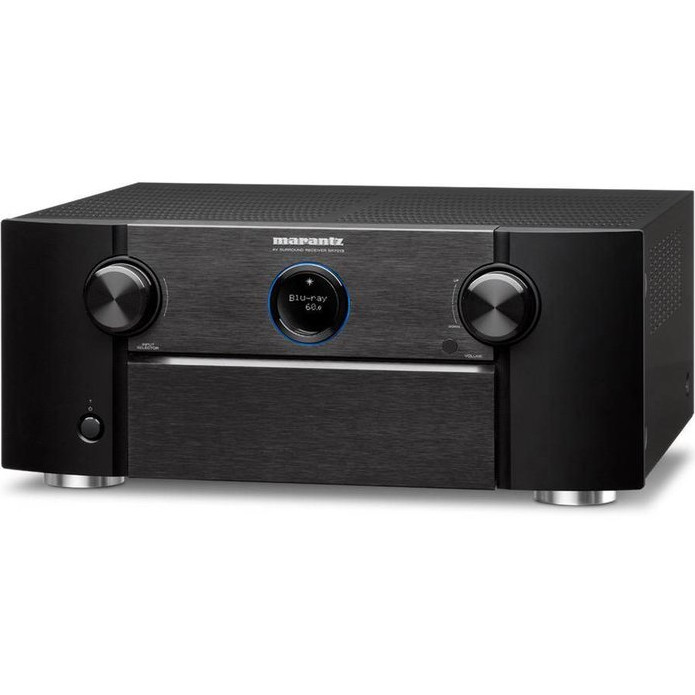 Home theatre amps and receivers are devices used as a central hub for all your home entertainment equipment.  These products allow you to connect all your home entertainment equipment like Blu Ray players, Playstations, Xbox, CD Players, Television, etc and use the home theatre amps and receivers as a switching device, then play the audio out to a set of home theatre speakers and in many cases have the provision to have second and third zones (separate speakers playing independent audio to the main zone)
5.1, 7.1, 7.2, 9.2 ???
These number indicate the amount of speakers in a home theatre setup.  The first number indicate the number of speakers around you (front, centre, rear, etc) and the '.1' or '.2' indicates the number of subwoofers in the system.  In a 5.1 system you will have left, centre right rear left and rear right, plus 1 subwoofer.  In a 7.2 system you can have left, centre, right, surround left, surround right,  surround back left and surround back right (OR front height OR front wide) plus 2 subwoofers.  As you can see there is a fair bit of flexibility when it comes to speaker placement.
 Dolby ATMOS and DTS-X
Dolby ATMOS and DTS-X are the latest surround sound formats that include an additional 1 or 2 pairs of speakers to give you an improved soundstage.  This is usually achieved by the use of ceiling speaker placed above the listeners to give the 'Voice of God' effect.  It can also be achieved by dedicated ATMOS speaker that fire upwards and bounce the sound off the ceiling to achieve the same effect.
Networking Features
Network enabled home theatre amps and receivers include useful features such as Internet Radio, (30,000+ radio station from around the world) Airplay, (Music streaming from Apple devices- and Android devices under certain conditions.) and music streaming services such as Spotify. These feature require a network connection to you home network, either wired to your router or a wireless connection. Internet Radio and Spotify also requires an Internet Connection.
Most also include Bluetooth as well (this is a non network based wireless connection.)
 App Features
All home theatre amps and receivers that have networking included will have a dedicated App for use with Smart Devices (phones, iPad, tablets, etc) that will give the most commonly used feature in an easy to use interface.  These apps are especially useful when operating second or third zones as you don't need to point a remote control at the amp or receiver to change functions, volume, tracks, etc.
 HDCP 2.2
HDCP 2.2 is a movie encryption method employed by the movie distributors to stop piracy.  It is used in the new Ultra HD (4K) BluRay players.  It is required if you connect one of these player to a home theatre amps and receivers.