Noise Cancelling Headphones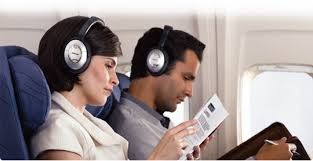 Noise cancelling headphones have reached a huge popularity in the last 5 or so years, primarily for their Noise Cancelling properties. Noise Cancelling headphones work by using microphones on the outside of the headphones to listen to the sound around you, which then is used in reverse to cancel out the audio coming in. Noise cancelling is extremely effective at blocking the noise of contant noises, like an air conditioner or a plane engine, but don't quite work as well with loud, sudden, higher pitched noises, such as an alarm, or the horn of a car (makes it a little safer to walk around in public wearing these things).
With the noise drowned out around you, Noise Cancelling Headphones can make your music sound clearer, without ambient noises to distract you from your music.
Because Noise Cancelling Headphones rely on a power source to cancel noise, such as a battery. Depending on the model of Noise Cancelling Headphones you purchase, this may be a AA, or AAA battery, or even a rechargable Lithium Ion, or similar technology battery that can be recharged with a standard Micro-B USB cable plugged to any USB port that supplies enough current (if the port works at all, it will charge the headphones).
Battery life on Noise Cancelling Headphones varies between models, some getting 15 hours, and others getting around 30 hours per charge. Some Noise Cancelling Headphones also have Bluetooth connectivity, allowing you to listen to your music without a headphone cable running to your phone. Both BOSE and Sennheiser have Wireless Noise Cancelling Headphones, both of high build quality and excellent sound reproduction.
Currently, the BOSE Quiet Comfort 35 headphones are the most popular, While the Sennheiser, PSB, and AKG Noise Cancelling Headphones are also very highly regarded.
As excellent as Noise Cancelling Headphones can be, we do not recommend using these in extremely high noise environments such as contruction sites.
KEF / PORSCHE DESIGN Space One Wireless - Black

Wireless Noise Cancelling Headphones

Special Price

$449.00

Regular Price

$599.00

TECHNICS EAH-F70N Noise Cancelling Headphones - Black

Premium Noise Cancelling Headphones

Special Price

$480.00

Regular Price

$599.00

TECHNICS EAH-F70N Noise Cancelling Headphones - Silver

Premium Noise Cancelling Headphones

Special Price

$480.00

Regular Price

$599.00