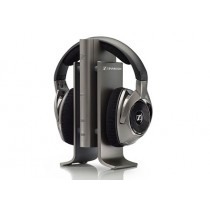 Wireless headphones are headphones that do no require a cable from their audio source (duh). For the most part, these are Bluetooth enabled headphones, to be used with a bluetooth enabled audio player, or smart phone of some description. Many manufacturers make wireless headphones, some with noise cancelling, or microphones, or playback controlls built in.
As with any wireless device, these do have a battery (some internal Litium rechargable batteries, or replaceable AA or AAA batteries), and will require periodic charging or replacement batteries. Battery life varies from model to model, and depending on listening habits. In most cases, a cable is provided just in case the battery does run out.
Bluetooth enabled headphones will require that your device has bluetooth 3.0 (A2DP or better) to be able to stream audio in acceptable quality at all, with Bluetooth 4.0(APTX) delivering near lossless audio performance. Higher quality codecs are in development to provide higher resolution audio via Bluetooth.
RF Base station headsets, such as Sennheisers RS line of headphones, will plug directly to your television, allowing you to enjoy your favorite television programs without disturbing anyone else, and giving you a much clearer sound over standard television speakers.
Playback controls on some bluetooth enabled headphones will allow you to play/pause tracks, skip tracks, and adjust volume.
Bluetooth pairing your Bluetooth headphones is fairly straightforward, instructions are provided in the box for each unit (as pairing can vary slightly). It usually involves holding down the play/pause, or pair button on the headset until the lights on the unit start flashing different colours, or flashing rapidly. Then you must open the settings menu on your phone and open bluetooth options, making sure your phones bluetooth is enabled. You should see the "name" of your new Bluetooth headphones in the list of available devices. The pairing passcode is usually "0000" or "1234", sometimes no passcode is necessary.