PRO.2 BMR3X Bluetooth Music Receiver with APT-X
Lose the wires without compromising audio quality nor upgrading your audio system!
Simply pair your Bluetooth enabled device–such as your smart phone, iPad, Android tablet–and connect the BMR3X to your AV receiver, multimedia speakers and more. With our inclusion of the highly renowned apt-X codec, the BMR3X allows you to enjoy wireless Bluetooth audio quality indistinguishable from wired, with an impressive dynamic range. Apart from apt-X, the BMR3X features a high-quality DAC that helps clean up poor audio that is often found in downloaded music and videos.

The BMR3X outputs audio though both analogue and digital outputs simultaneously! Not only does this make it great for hooking up to your high-end amplifier or receiver using the high quality digital link, but you can also plug in another pair of powered speakers at the same time! This allows you to listen through either system without the need to connect to another Bluetooth device!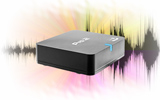 A Signal-to-Noise Ratio (SNR) of more than 100dB, in combination with 2Vrms output at maximum volume means the BMR3EX can not only compensate for low volume sources, but gives you a wider range of control from your mobile device without losing audio quality or increased background hiss you get from other devices on the market! Basically keep the volume on your amp or speakers low for reduced noise, and control the audio level directly from your phone or tablet—perfect for audiophiles!
apt-X codec
for exceptionally high CD quality wireless performance
Dual simultaneous output

S/PDIF Optical output: For pure digital audio connection, ideal for connecting to AV Receivers
3.5mm stereo output: For connection to any speaker system, media player and more with a standard AUX input

Auto-Pairing
Once the BMR3X establishes a blueooth connection with a device, it will remember and auto-connect when that device is in range
Multi-Device Support
The BMR3X will remember and connect up to 8 devices
Half the latency of other Bluetooth receivers


only 70ms instead of the 180ms of other devices on the market!

Low noise (SNR: >100dB)
Plenty of headroom for volume levels!
---
Benefits of apt-X:
Audio bandwidth matching CD performance (16-bit, 44.1kHz)
Low audio coding delay. Minimizes latency and 'lip-sync' issues
Non destructive transcoding– no dueling effects with other algorithms
Backward Compatibility:
when apt-X is not available target device will pair down to SBC
Compression ratio of 4:1 and data rates up to 352kbps
Please note: Your source device must also have the apt-X codec. Please check your device user manual and specifications to be sure. If your device does not have apt-X, the BMR3X will still work, utilising the SBC codec.
Some devices that have apt-X support include:
HTC One S
HTC One V
HTC One X
Motorola Droid Razr
Samsung Galaxy S III (S3)
Samsung Galaxy Tab 7.0 Plus
Samsung Galaxy Tab 7.7
Samsung Galaxy Note 10.1
Apple Mac Mini (latest gen)
Apple Mac book Air (latest gen)
Apple Mac book Pro (latest gen)
and more…
Bluetooth version
3.0 EDR
Bluetooth profile
A2DP / IOPT
Codecs
apt-X®, SBC
Devices memory
8
Transmission range
10 m
Frequency
2402 ~ 2480 MHz
Sensitivity
-84 dBm
Spurious output level
-156 dBm / Hz
Connections
5V / 0.6A DC
Optical/ Toslink out
3.5mm stereo out
Analogue Audio (R/L)
Audio Output Level (nominal)
2 ±10% Vrms
Frequency response
20 Hz ~ 20 KHz
Channel Separation
-45 dB
SNR (nominal, Audio RL)
>= 100 dB
THD (nominal, Audio RL)
0.05 %
Toslink
Wave length (nominal)
640 ~ 670 nm
Light output(nominal)
-17 dBm
Dimensions:
20 (H) x 75 (W) x 69 (D) mm