MAG LEV Audio ML1 Levitating Turntable - LAST ONE

The worlds first levitating turntable.
As low as
$3,499.00
Regular Price
$4,499.00
n.b. THIS TURNTABLE IS NOT COMPATIBLE WITH MOVING COIL CARTRIDGES
The Levitating Turntable is designed for people who appreciate high quality sound and innovative design. It comes with a pre-fitted tonearm and cartridge. This setup allows you to connect through phono in. Once you're done, you just have to pick your favorite record, turn the turntable on, move the tonearm into position and lower the cueing lever. Then sit back, relax and enjoy.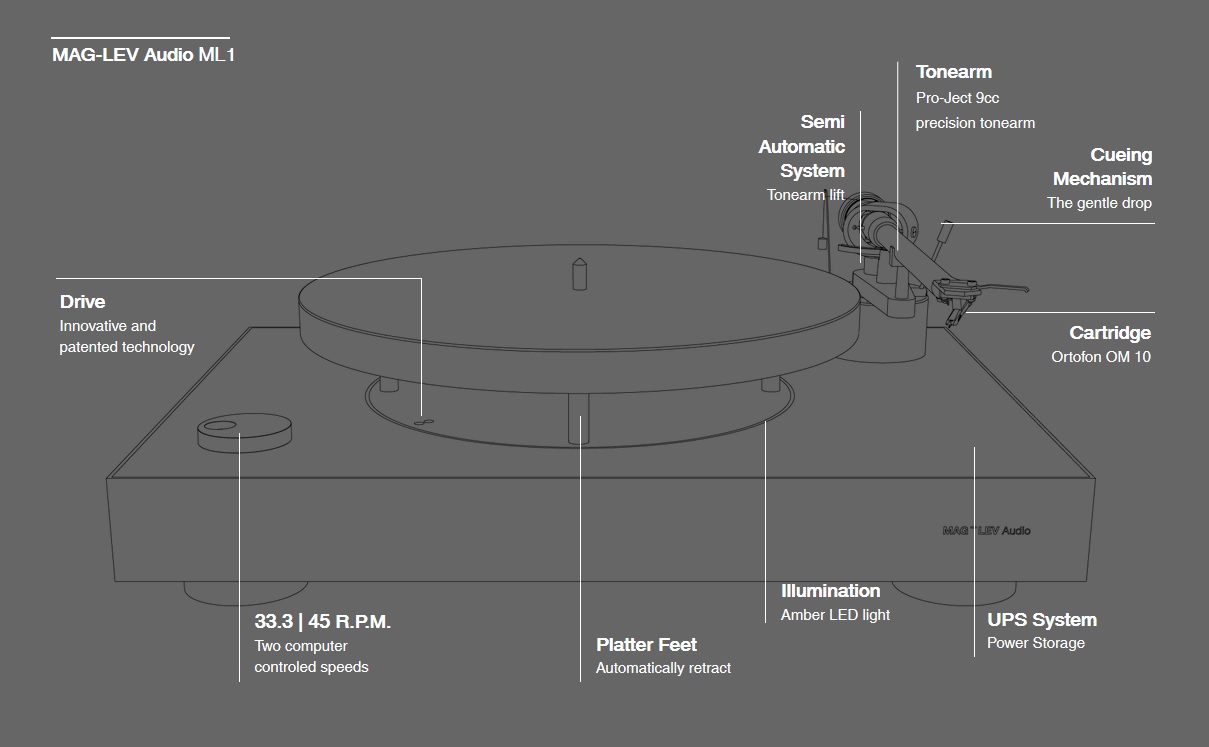 Tonearm
Pro-Ject 9cc is a 9" Precision Tonearm with Carbon Fibre Armtube/Headshell
Cartridge
The Ortofon OM-10 has been a staple of Audiophile Vinyl playback for decades. Being a Moving Magnet cartridge, the stylus is easily replaced or upgraded with other OM styli
Drive
Innovative and patented technology that allows the turntable to maintain the incredibly precise rotation of the platter with sensor regulated software.
Speed Controller
Easily select between 33.3 and 45RPM. The controller dial will blink until the platter reaches the selected speed.
Cueing Mechanism
The gentle drop and the precision of the stylus is what makes the entire process feel even more satisfying. Gently lowering the stylus into the grooves of your favourite albums preserves both the record and the stylus.
Semi-Automatic Functionality
The turntable will not stop at the end of the record. It will lift the stylus at the end though, protecting it from unnecessary wear and tear.
Platter Supports
When the tonearm is placed back in its original position, the platter struts will lift to support the platter automatically.
UPS System
The first concern of this design was the worry of what would happen if power was cut suddenly. One would imagine the platter just dropping, smashing into the plinth. Mag-Lev Audio have implemented a strong power supply with enough backup power to lift the platter support struts safely if the power is dropped suddenly.
Illumination
Subtle LED lighting enhances the visual effect of levitation.
TURNTABLE

Type

Magnetic Levitation, Semi Automatic Operation

Motor

None

Drive Method

MAG-LEV Audio Drive (Magnetic Coil Drive)

Speeds

33-1/3RPM, 45RPM

Turntable Platter

ABS Plastic & Carbon Fiber + Magnets and Metals. 2.2kg

Wow and Flutter

<0.17%

Signal to Noise Ratio

-73dB

Operating Temperature

35C

Weight

9.8kg

Package Weight

12.2kg

 

TONEARM

1" = 2.54cm

 

Tonearm Model

Pro-Ject 9cc

Headshell

Fixed, integrated into arm

Mounting Distance Arm Base

212mm

Arm Tube Material

Carbon Fibre

Headshell Material

Carbon Fibre

Effective Tonearm Length

9"

Effective Tonearm Mass

8.5g

Overhang

18mm

Supplied Counterweights for cartridge

6-10g (nr. 16)

Optional Counterweights

3-6g (no.7)

5-8g (no.9)

11-15g (no.3)

Downforce Range

10-30mN

Weight (without counterweight)

250g